Exploring together the ancient practices of the Mayans and their rich Cosmology
Mayan Medicine is indeed a millenia-old traditional healing system which is not well known by the public and intenionally kept out of reflectors. It is still practiced in remote areas of Guatemala, Mexico and Belize by a few elders who struggle for transmitting such a great knowledge.
The unicity of this healing art is its profound Cosmology, unifying all aspects of the Universe and Humanity in a wholistic perspective.
Official Certifications are issued by the Centre and accredited with IXIIM International Mayan Medicine Institute.
SPECIFICATIONS
DURATION: 6 days

LOCATION: Portugal, Europe

DATES: View Calendar

APPLICATIONS: open all year-round
The first level of this Course is designed for introducing students to the phylosophy and real practice of Mayan Medicine; a primer for accessing and professionally delivering these therapies.
Each day theoretical lessons (22 hours) are followed by practical work and training (14 hours). Extra hours are dedicated to tutoring, advice and final exam.
Upon completion of the Diploma Course, students will be entitled to offer the Mayan Neurosacral Therapy.
PROGRAM
Mayan Cosmology and Mayan Nahuales
Myths and History
Calendric system
Ethnobotany
Ch'ulel assessment and diagnosis
Rituals and Sacred Plants
Pulse, Refloxology and acupressure points
Shamanic Portals
Sacred Cacao, ancient and modern applications and rituals
Animal and Mineral Medicine
Hot and Cold diseases
Entheogens within the Mayans
Mayan Neurosacral Therapy and Abdominal massage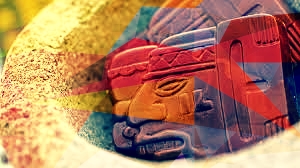 FEES: 600 euros, inclusive of food and accommodation, theoretical and practical lessons, final test assessment and printed Diploma, educational material, Mayan cacao ceremonies, personal advice and tutoring, use of the facilities at the Centre. Fees do not include airline tickets and transfers.
DISCOUNTS: available when booking multiple courses or for group bookings.
FOOD: mainly vegetarian, fermented and delicious home-made food
ACCOMMODATION: nice, private house with shared room (max. 6 people) and shared bathroom.
FACILITIES: ceremonial and meditation space, library, forest paths, gardens, a lab for practical work, classroom, retreat space.
Note: After the reservation has been made, no refund can be given.

A final exam is scheduled on the last day of the course in order to deliver the Diploma.