Exploring together the ancient practices of the Mayans and their rich Cosmology
PROGRAM
DURATION: 6 days

LOCATION: Portugal, Europe

DATES: Spring and Summer terms

APPLICATIONS: open all year-round
Each day theoretical lessons (22 hours) are followed by practical work and training (14 hours). Extra hours are dedicated to tutoring, advice and final exam.
Mayan Cosmology and Mayan Nahuales
Myths and History
Calendric system
Ethnobotany
Ch'ulel assessment and diagnosis
Rituals and Sacred Plants
Pulse, Refloxology and acupressure points
Shamanic Portals
Sacred Cacao, ancient and modern applications and rituals
Animal and Mineral Medicine
Hot and Cold diseases
Entheogens within the Mayans
Mayan Neurosacral Therapy and Abdominal massage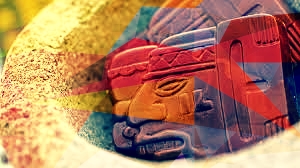 FEES: 600 euros, inclusive of food and accommodation, theoretical and practical lessons, final test assessment and printed Diploma, educational material, Mayan cacao ceremonies, personal advice and tutoring, use of the facilities at the Centre. Fees do not include airline tickets and transfers.
DISCOUNTS: available when booking multiple courses or for group bookings

ACCOMMODATION: shared private house (max 6 people)
FOOD: home-made vegetarian food

A final exam is scheduled on the last day of the course in order to deliver the Diploma.